A brand collaboration is a strategic partnership between a brand and another party. Furthermore, brand collaboration can be with another brand which is known as a co-branded campaign. Over the years we have seen celebrities, artists and influencers collaborate. These are the Top 10 Brand Collaborations from the year 2021 in South Africa in no particular order.
Tshepo Jeans x Castle Milk Stout
The Last Stories of Culture collaboration that saw Tshepo Jeans launch a new collection which pays homage to the diverse culture and eclectic styles of African people. The collection has his signature denim, trucker jackets, dungarees and T-shirts. This is one collaboration that works well as the base of both brands is storytelling. Castle Milk Stout has been a beacon of telling African stories and Tshepo Jeans has been vocal about his brand being about storytelling with even the meaning of his crown logo.
Drip x BMW Midrand
A never seen before collaboration, Drip Footwear built a new store inside a BMW dealership in Midrand. The partnership showed that innovation is important and is going to be a trend to look out for in the coming year.
Karabo Poppy x Nescafe Ricoffy
Heritage month is a very important month in South Africa. Illustrator, Karabo Poppy designed the limited edition Ricoffy tin. In the same month, Ricoffy was celebrating 50 years of 'South Africannes'. Furthermore, the brand collaborated with Gert Johan Coetzee for a limited edition bucket hat.
Flying Fish x Uber Eats
Featured on our weekly segment, Brand of the Week, Flying Fish teamed up with Uber Eats to promote responsible drinking. The focus of the campaign was to reduce harmful consumption of alcohol which is a big problem in South Africa. It also had multiple layers of collaboration, 'The Flying Dish' kitchen teamed up with local chefs – Chef Neo Nontso and Chef Alex Torrao to create meals to have before you drink. The menu had burgers, wings and fries to name a few.
Drip x Cassper Nyovest
If there is one brand collaboration in 2021 that generated a lot of talk in South Africa it has to be this on. Local brand Drip teamed up with award winning rapper, Cassper Nyovest for a multimillion Rand deal called 'The Legacy Deal'. The R100 million deal saw Cassper release a new line of sneakers with Drip Footwear called 'Root of Fame'. The shoe retails for R990.
Coca-Cola x Mr Price
Just in time for summer this year, Coca-Cola collaborated with Mr Price to sell their merch. Coca-Cola is an iconic brand and so is Mr Price. This brand collaboaration makes sense for 2021 summer. The summer range had different items available in selected stores across the country. The items are a definite must have for the summer.
Porsche South African x Nelson Makamo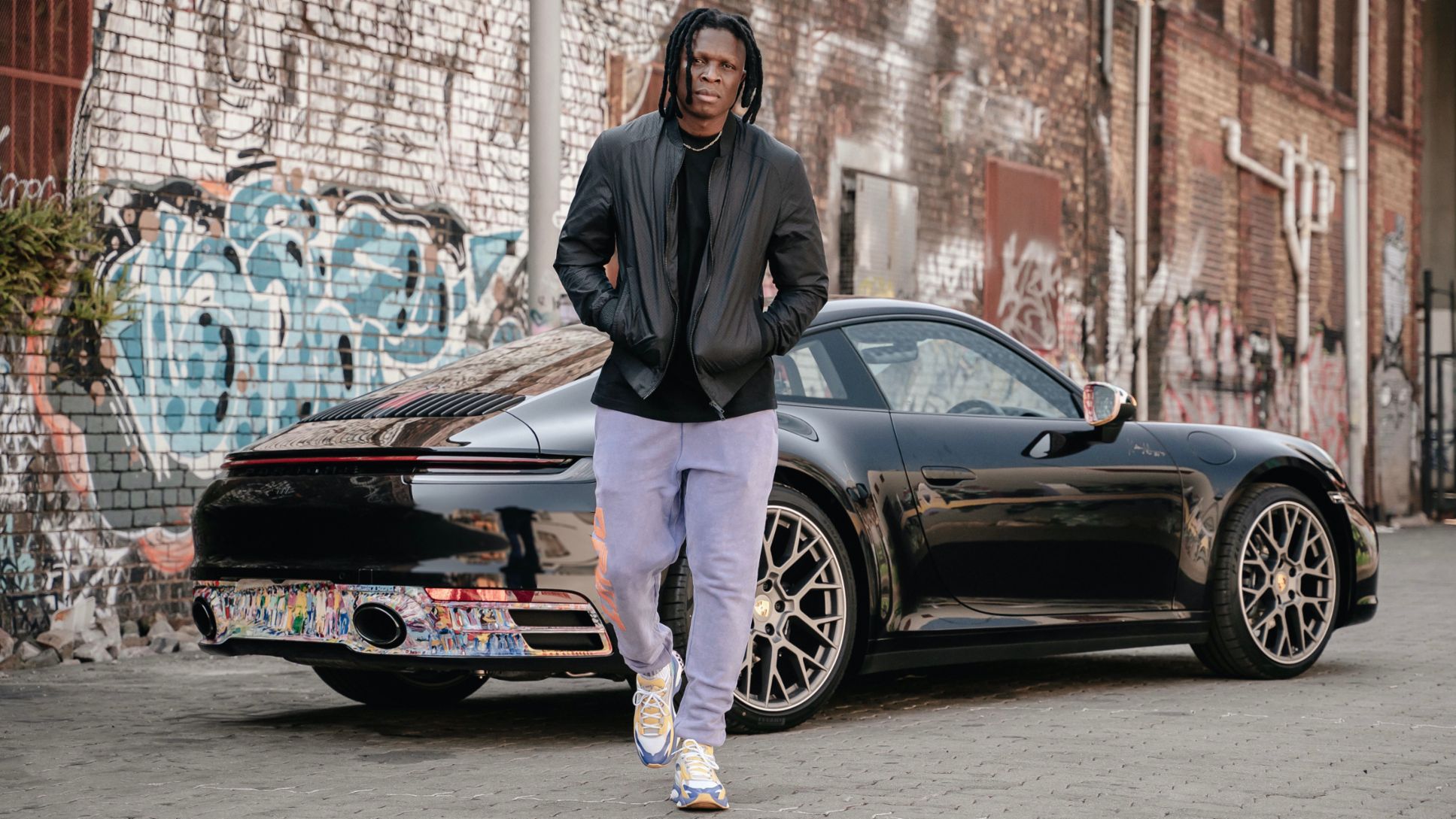 Nelson Makamo, always dreamed of owning a Porsche 911, a dream that has just been realised with the delivery of his Jet Black Metallic 911 Carrera Coupé – but the story doesn't stop there… he hand-painted a number of his 911's components and panels before returning them to the team at Porsche Centre Johannesburg for a final layer of lacquer and fitting. The artist dubbed 'My Life in Motion'. This is one of the most interesting brand collaborations of 2021 and it was well documented on Porsche South Africa Instagram page.
Dr Esther Mahlangu x Air Jordan
Showcased in Dubai, Dr Esther Mahlangu custom designed an Air Jordan for close to R7.5 million. However, the shoe wasn't up for sale. The hand-painted shoe with Ndebele prints was taken on a world tour to pay for scholarships at the Ayashisa Amateki Academy.
Neimil x H&M
Multidisciplinary brand founded in 2018 was asked by retailer H&M to create an exclusive home décor collection to be sold in selected H&M Home stores. The retailer launched a project to support and promote small business and further promote the South African design industry. In addition, all the proceeds of the collaboration went straight to Neimil with H&M not getting any profit from it. The Neimil collection had cushion covers, placemats and bathroom mats. The material for the products were sourced and produced locally.
Makhadzi x Kicks Sportwear
Award winning artist Makhadzi signed the biggest deal announced this year. To clarify, this deal was worth more than the Drip 'Legacy Deal' at R120 million. The KOKOVHA range has different items including apparel and sneakers. Makhadzi said that her collection was inspired by her roots and Venda culture.
There are a lot of collaborations that happened this year and a lot stood out. It is interesting to see the direction of brand collaborations and who brands choose to align themselves with. There has been a trend with influencers or celebrities partnering with alcohol brands this year which leave the question on what's coming in 2022.